Пакет: ekg2 (1:0.3.1-1~bpo60+1) [backports]
Ссылки для ekg2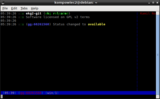 Ресурсы Debian:
Исходный код ekg2:
Сопровождающий:
Внешние ресурсы:
Подобные пакеты:
instant messenger and IRC client for UNIX systems
EKG2 is an open source instant messenger program for UNIX systems. The program has a plugin-based structure, and supports multiple protocols, currently Jabber, ICQ, Gadu-Gadu, IRC, RivChat, PolChat, NNTP and RSS. Also a generic filesystem-based communication mechanism called "xmsg" is supported.
The program has many useful features. Here is a list - unless specified they are included in the ekg2-core package.

  - irssi-like ncurses interface, with mouse support [ekg2-ui-ncurses]
  - experimental GTK+ interface [ekg2-ui-gtk]
  - experimental HTTP interface
  - experimental 'remote' interface [ekg2-remote]
  - spell checking [ekg2-ui-ncurses]
  - "remote control" via pipe or socket
  - XOSD support [ekg2-xosd]
  - jogger.pl blog update support
  - a simple CAPTCHA (autoresponder)
  - Python and Perl scripting [ekg2-scripting-python, ekg2-scripting-perl]
  - launching shell commands on certain events
  - encryption support (SIM, GnuPG, ROT13) [ekg2-core, ekg2-gnupg]
  - logging to SQLite, plain text or XML files
  - sending SMs (using an external program such as sms-pl)
  - mail checking

This is a meta-package which depends on a set of commonly used EKG2 packages.
Другие пакеты, относящиеся к ekg2
dep:

ekg2-core (= 1:0.3.1-1~bpo60+1)

instant messenger and IRC client for UNIX systems - main program

dep:

ekg2-jabber (= 1:0.3.1-1~bpo60+1)

instant messenger and IRC client for UNIX systems - Jabber/XMPP

dep:

ekg2-ui-ncurses (= 1:0.3.1-1~bpo60+1)

instant messenger and IRC client for UNIX systems - ncurses interface
rec:

ekg2-dbg

instant messenger and IRC client for UNIX systems - debugging symbols
Загрузка ekg2
Загрузить для всех доступных архитектур

| Архитектура | Размер пакета | В установленном виде | Файлы |
| --- | --- | --- | --- |
| s390 | 1,3 Кб | 20,0 Кб | [список файлов] |