Пакет: can-utils (0.0+git20140227-1)
Ссылки для can-utils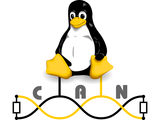 Ресурсы Debian:
Сопровождающий:
Внешние ресурсы:
Подобные пакеты:
SocketCAN userspace utilities and tools
CAN is a message-based network protocol designed for vehicles originally initially created by Robert Bosch GmbH. SocketCAN is a set of open source CAN drivers and a networking stack contributed by Volkswagen Research to the Linux kernel.
This package contains some userspace utilities for Linux SocketCAN subsystem: asc2log, bcmserver, canbusload, can-calc-bit-timing, candump, canfdtest, cangen, cangw, canlogserver, canplayer, cansend, cansniffer, isotpdump, isotprecv, isotpsend, isotpserver, isotpsniffer, isotptun, log2asc, log2long, slcan_attach, slcand and slcanpty.
Другие пакеты, относящиеся к can-utils
dep:

libc6 (>= 2.15)

библиотека GNU C: динамически подключаемые библиотеки
также виртуальный пакет, предоставляемый libc6-udeb
Загрузка can-utils
Загрузить для всех доступных архитектур

| Архитектура | Размер пакета | В установленном виде | Файлы |
| --- | --- | --- | --- |
| amd64 | 69,3 Кб | 386,0 Кб | [список файлов] |