Package: raincat (1.1.1.2-3 and others)
Links for raincat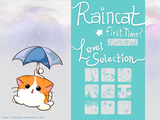 Debian Resources:
Download Source Package raincat:
Maintainers:
External Resources:
Similar packages:
2D puzzle game featuring a fuzzy little cat
Raincat is a 2d puzzle game similar to the Incredible Machine and Lemmings series. Your goal is simple: guide the cat safe and dry to the end of each level. Just mind the rain, puddles, and loose fire hydrants in your path!
Other Packages Related to raincat
Download raincat
Download for all available architectures

| Architecture | Version | Package Size | Installed Size | Files |
| --- | --- | --- | --- | --- |
| amd64 | 1.1.1.2-3+b2 | 958.7 kB | 9,737.0 kB | [list of files] |
| arm64 | 1.1.1.2-3+b2 | 2,217.3 kB | 24,144.0 kB | [list of files] |
| armel | 1.1.1.2-3+b2 | 2,015.8 kB | 15,940.0 kB | [list of files] |
| armhf | 1.1.1.2-3+b2 | 2,046.0 kB | 15,748.0 kB | [list of files] |
| i386 | 1.1.1.2-3+b2 | 1,161.2 kB | 9,178.0 kB | [list of files] |
| mips | 1.1.1.2-3+b2 | 2,634.6 kB | 27,289.0 kB | [list of files] |
| mips64el | 1.1.1.2-3+b2 | 2,835.5 kB | 29,988.0 kB | [list of files] |
| mipsel | 1.1.1.2-3+b2 | 2,731.0 kB | 27,289.0 kB | [list of files] |
| ppc64el | 1.1.1.2-3+b2 | 1,871.7 kB | 22,665.0 kB | [list of files] |
| s390x | 1.1.1.2-3+b2 | 4,730.7 kB | 42,901.0 kB | [list of files] |