Package: whowatch (1.8.5-1 and others)
Links for whowatch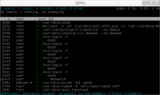 Debian Resources:
Download Source Package whowatch:
Maintainer:
External Resources:
Similar packages:
Real-time user logins monitoring tool
whowatch is a ncurses who-like utility that displays information about the users currently logged on to the machine, in real-time. Besides standard information (login name, tty, host, user's process), the type of the connection (ie. telnet or ssh) is shown.
Other Packages Related to whowatch
dep:

libc6 (>= 2.17) [arm64, ppc64el]

GNU Biblioteca C: Bibliotecas compartilhadas
also a virtual package provided by libc6-udeb

dep:

libc6 (>= 2.21) [mips64el]

dep:

libc6 (>= 2.7) [not arm64, mips64el, ppc64el]

dep:

libncurses5 (>= 6)

bibliotecas compartilhadas para manipulação do terminal

dep:

libtinfo5 (>= 6)

biblioteca de terminfo de baixo-nível compartilhada para manipulação de terminal