Package: testdisk (7.0-3)
Links for testdisk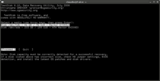 Debian Resources:
Download Source Package testdisk:
Maintainers:
Similar packages:
ferramenta de scanner de partições e recuperação de discos, e ferramenta de recuperação de arquivos PhotoRec
TestDisk verifica a partição e os setores de boot de seus discos. É muito útil em ciência forense, recuperando partições perdidas. Trabalha com:

 * FAT12, FAT16 e FAT32 de DOS/Windows;
 * NTFS ( Windows NT/2K/XP );
 * Ext2 e Ext3 do Linux;
 * BeFS ( BeOS );
 * BSD disklabel ( FreeBSD/OpenBSD/NetBSD );
 * CramFS (Sistema de arquivos comprimido);
 * HFS and HFS+, Sistema de arquivos hierárquico;
 * JFS, IBM's Sistema de arquivos com journal;
 * Linux Raid;
 * Linux Swap (versões 1 e 2);
 * LVM and LVM2, Gerenciador de Volumes Lógicos do Linux;
 * Netware NSS;
 * ReiserFS 3.5 e 3.6;
 * Sun Solaris i386 disklabel;
 * UFS e UFS2 (Sun/BSD/...);
 * XFS, SGI's Sistema de arquivos com Journal.

PhotoRec é um software de recuperação de dados de arquivos feito para recuperar figuras perdidas da memória de câmeras digitais ou mesmo de discos rígidos. Foi extendido para buscar também por cabeçalhos que não sejam de áudio/vídeo. Ele busca pelos seguintes arquivos e é capaz de recuperá-los:

 * Dados de áudio Sun/NeXT (.au);
 * Áudio/vídeo RIFF (.avi/.wav);
 * Bitmap BMP (.bmp);
 * Dados comprimidos bzip2 (.bz2);
 * Código fonte escrito em C (.c);
 * Foto Canon Raw (.crw);
 * Catálogo Canon (.ctg);
 * Subdiretório FAT;
 * Documento do Microsoft Office (.doc);
 * Nikon dsc (.dsc);
 * Página HTML (.html);
 * Foto JPEG (.jpg);
 * Vídeo MOV (.mov);
 * Áudio MP3 (MPEG ADTS, layer III, v1) (.mp3);
 * Moving Picture Experts Group video (.mpg);
 * Foto Minolta Raw (.mrw);
 * Foto em formato Olympus Raw (.orf);
 * Portable Document Format (.pdf);
 * Perl script (.pl);
 * Portable Network Graphics (.png);
 * Foto Raw Fujifilm (.raf);
 * Foto Contax (.raw);
 * Foto Rollei (.rdc);
 * Rich Text Format (.rtf);
 * Shell script (.sh);
 * Tar archive (.tar );
 * Tag Image File Format (.tiff);
 * Microsoft ASF (.wma);
 * Foto Sigma/Foveon X3 raw (.x3f);
 * Zip archive (.zip),

Other Packages Related to testdisk