Package: octave (5.1.0-1)
Links for octave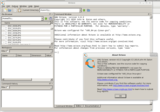 Debian Resources:
Download Source Package octave:
Maintainers:
External Resources:
Similar packages:
Experimental package
Warning: This package is from the experimental distribution. That means it is likely unstable or buggy, and it may even cause data loss. Please be sure to consult the changelog and other possible documentation before using it.
linguagem Octave da GNU para cáculos numéricos
Octave é uma linguagem de alto nível (quase totalmente compatível com o Matlab (R)) criada principalmente para cálculos numéricos. Ela provê uma interface de linha de comando conveniente para a resolução numérica de problemas lineares e não lineares.
Octave pode ser estendido dinamicamente com arquivos C++ fornecidos pelo usuário.
Other Packages Related to octave
Download octave
Download for all available architectures

| Architecture | Package Size | Installed Size | Files |
| --- | --- | --- | --- |
| amd64 | 2,219.6 kB | 6,181.0 kB | [list of files] |
| arm64 | 2,098.0 kB | 6,051.0 kB | [list of files] |
| armel | 2,024.7 kB | 5,193.0 kB | [list of files] |
| armhf | 2,042.7 kB | 4,465.0 kB | [list of files] |
| i386 | 2,309.0 kB | 6,107.0 kB | [list of files] |
| m68k (unofficial port) | 2,247.3 kB | 6,177.0 kB | [list of files] |
| mips | 2,018.5 kB | 6,474.0 kB | [list of files] |
| mips64el | 2,037.2 kB | 6,898.0 kB | [list of files] |
| mipsel | 2,038.7 kB | 6,466.0 kB | [list of files] |
| ppc64 (unofficial port) | 2,213.5 kB | 8,241.0 kB | [list of files] |
| ppc64el | 2,198.7 kB | 7,754.0 kB | [list of files] |
| s390x | 2,089.7 kB | 6,283.0 kB | [list of files] |
| x32 (unofficial port) | 2,227.0 kB | 5,702.0 kB | [list of files] |