Package: critterding (1.0-beta14+dfsg-2 and others)
Links for critterding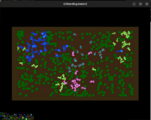 Debian Resources:
Download Source Package critterding:
Maintainers:
External Resources:
Similar packages:
Experimental package
Warning: This package is from the experimental distribution. That means it is likely unstable or buggy, and it may even cause data loss. Please be sure to consult the changelog and other possible documentation before using it.
Vida Artificial em Evolução
Critterding é um universo "placa de Petri" em 3D que demonstra a evolução de uma vida artificial. "Critters" iniciam com cérebros e corpos completamente aleatórios, mas começarão a evoluir automaticamente em algo com habilidades de sobrevivência muito melhores.
Other Packages Related to critterding
dep:

critterding-common (= 1.0-beta14+dfsg-2)

Evolving Artificial Life - architecture-independent files

dep:

libboost-filesystem1.58.0

Package not available

dep:

libboost-iostreams1.58.0

Package not available

dep:

libboost-system1.58.0

Package not available

dep:

libbulletcollision2.83.6

Package not available

dep:

libbulletdynamics2.83.6

Package not available

dep:

libbulletsoftbody2.83.6

Package not available

dep:

libc6 (>= 2.4)

GNU Biblioteca C: Bibliotecas compartilhadas
also a virtual package provided by libc6-udeb

dep:

libfreetype6 (>= 2.2.1)

FreeType 2 font engine, shared library files

dep:

libftgl2 (>= 2.1.3~rc5)

library to render text in OpenGL using FreeType

dep:

libgcc1 (>= 1:4.4.0)

Biblioteca de suporte GCC

dep:

libgl1-mesa-glx

transitional dummy package

or libgl1

Vendor neutral GL dispatch library -- legacy GL support
also a virtual package provided by libgl1-mesa-glx, libgl1-mesa-swx11

dep:

libglew1.13 (>= 1.12.0)

Package not available

dep:

libglu1-mesa

Mesa OpenGL utility library (GLU)

or libglu1

Package not available

dep:

libgomp1 (>= 4.9)

biblioteca de suporte ao GCC OpenMP (GOMP)

dep:

liblinearmath2.83.6

Package not available

dep:

libqt4-declarative (>= 4:4.7.0~beta1)

Qt 4 Declarative module

dep:

libqt4-opengl (>= 4:4.5.3)

Qt 4 OpenGL module

dep:

libqtcore4 (>= 4:4.5.3)

Qt 4 core module

dep:

libqtgui4 (>= 4:4.5.3)

módulo de interface gráfica Qt4

dep:

libsdl1.2debian (>= 1.2.11)

Simple DirectMedia Layer

dep:

libstdc++6 (>= 5.2)

Biblioteca C++ padrão da GNU v3

dep:

libtinyxml2.6.2v5

C++ XML parsing library
Download critterding
Download for all available architectures

| Architecture | Version | Package Size | Installed Size | Files |
| --- | --- | --- | --- | --- |
| armel | 1.0-beta14+dfsg-2+b2 | 345.0 kB | 1,274.0 kB | [list of files] |