Package: ucf (3.0025+nmu3)
Links for ucf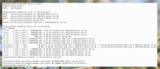 Debian Resources:
Download Source Package ucf:
Maintainer:
Similar packages:
Aktualizacja plików konfiguracyjnych: ochrona zmian użytkowników w plikach konfiguracyjnych.
Polityka Debiana nakazuje, aby dotychczasowe zmiany w plikach konfiguracyjnych były chronione przed aktualizacją pakietu. Najprostszym sposobem, żeby to osiągnąć jest potraktowanie rzeczonego pliku jako 'conffile', dzięki czemu dpkg specjalnie traktuje plik podczas aktualizacji, pytając użytkownika jeśli jest to potrzebne.
Jest to właściwe rozwiązanie tylko jeśli jest możliwa dystrybucja domyślnej wersji pliku, który będzie działał w większości przypadków. Co sprawia, że domyślna wersja jest częścią pakietu i nie może być zmieniana przez skrypty instalacyjne.
Ten skrypt próbuje obsłużyć pliki, które nie są dostarczane przez pakiety Debiana i nie są zaliczane do plików 'conffile', ale w zamian są obsługiwane przez skrypt postinst. Pozwala on zarządzać plikami w katalogu /etc, chroniąc zmiany dokonane przez użytkownika i generalnie, oferuje te same funkcje jakie normalnie dostarcza dpkg dla plików 'conffile'.
Ponadto, skrypt ten pozwala na przekształcenie każdego pliku, który nie był chroniony w ten sposób i próbuje zminimalizować liczbę zadawanych z uwagi na to pytań podczas instalacji. W rzeczywistości funkcja przekształcania jest lepsza od przydzielania zwykłemu plikowi statusu 'conffile', oferowanego przez dpkg.
Other Packages Related to ucf
Download ucf
Download for all available architectures

| Architecture | Package Size | Installed Size | Files |
| --- | --- | --- | --- |
| all | 69.2 kB | 230.0 kB | [list of files] |