Package: afterstep (2.2.11-7)
Links for afterstep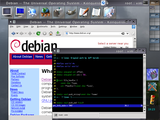 Debian Resources:
Download Source Package afterstep:
Maintainer:
External Resources:
Similar packages:
Menedżer okien z wyglądu i w odczuciu przypominający NEXTSTEP
AfterStep to menedżer okien oparty na FVWM, który próbuje emulować wygląd NEXTSTEP, przy zachowaniu konfiguracji swojego poprzednika. Należy pamiętać, że menedżer okien szeroko wykorzystuje paletę kolorów. Jeśli posiada się jedynie monitor z 8-bitową głębią kolorów, to menedżer będzie działać jak spakowany, ale można zmienić konfigurację w celu używania mniejszej liczby kolorów.
AfterStep jest kontynuacją projektu menedżera okien BowMan, ale nazwa została zmieniona by pokazać, że ten menedżer okien czyni więcej niż tylko emulowanie wyglądu i aby stał się cenny ze względu na swoje zalety.
Other Packages Related to afterstep