Pakiet: krfb (4:17.08.3-1) [debports]
Odnośniki dla krfb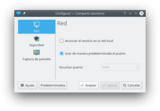 Zasoby systemu Debian:
Pobieranie pakietu źródłowego :
Nie znaleziono
Opiekunowie:
Zasoby zewnętrzne:
Podobne pakiety:
Desktop Sharing utility
KDE Desktop Sharing is a manager for easily sharing a desktop session with another system. The desktop session can be viewed or controlled remotely by any VNC or RFB client, such as the KDE Remote Desktop Connection client.
KDE Desktop Sharing can restrict access to only users who are explicitly invited, and will ask for confirmation when a user attempts to connect.
This package is part of the KDE networking module.
Inne pakiety związane z krfb
sug:

khelpcenter

KDE documentation viewer

sug:

krdc

Remote Desktop Connection client
Pobieranie krfb
Pobierz dla wszystkich dostępnych architektur

| Architektura | Rozmiar pakietu | Rozmiar po instalacji | Pliki |
| --- | --- | --- | --- |
| ppc64 (port nieoficjalny) | 1 019,8 KiB | 2 343,0 KiB | [lista plików] |