[ Pakiet źródłowy:
kwave
]
Pakiet: kwave (18.08.1-1)
Odnośniki dla kwave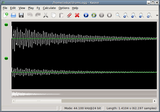 Zasoby systemu Debian:
Pobieranie pakietu źródłowego kwave:
Opiekunowie:
Zasoby zewnętrzne:
Podobne pakiety:
sound editor for KDE
Kwave is a sound editor designed for the KDE Desktop Environment.
With Kwave you can record, play back, import and edit many sorts of audio files including multi-channel files.
Kwave includes some plugins to transform audio files in several ways and presents a graphical view with a complete zoom- and scroll capability.
Its features include:

 * 24 Bit Support
 * Undo/Redo
 * Use of multicore CPUs (SMP, hyperthreading)
 * Simple Drag & Drop
 * Realtime Pre-Listen for some effects
 * Support for multi-track files
 * Playback and recording via native ALSA, PulseAudio (or OSS deprecated)
 * Playback via Phonon
 * Load and edit-capability for large files (can use virtual memory)
 * Reading and auto-repair of damaged wav-files
 * Supports multiple windows
 * Extendable Plugin interface
 * a nice splashscreen
 * some label handling

Inne pakiety związane z kwave
Pobieranie kwave
Pobierz dla wszystkich dostępnych architektur

| Architektura | Rozmiar pakietu | Rozmiar po instalacji | Pliki |
| --- | --- | --- | --- |
| amd64 | 5 726,0 KiB | 15 497,0 KiB | [lista plików] |
| arm64 | 5 662,5 KiB | 15 498,0 KiB | [lista plików] |
| armel | 5 572,2 KiB | 14 658,0 KiB | [lista plików] |
| armhf | 5 598,6 KiB | 13 850,0 KiB | [lista plików] |
| i386 | 5 874,4 KiB | 15 977,0 KiB | [lista plików] |
| mips | 5 594,5 KiB | 15 697,0 KiB | [lista plików] |
| mips64el | 5 611,2 KiB | 16 010,0 KiB | [lista plików] |
| mipsel | 5 622,1 KiB | 15 697,0 KiB | [lista plików] |
| ppc64el | 5 778,6 KiB | 17 806,0 KiB | [lista plików] |
| s390x | 5 628,3 KiB | 15 728,0 KiB | [lista plików] |