Package: iraf (2.16.1+2018.11.01-2)
Links for iraf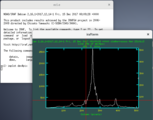 Debian Resources:
Download Source Package iraf:
Maintainers:
External Resources:
Similar packages:
Image Reduction and Analysis Facility
IRAF is the "Image Reduction and Analysis Facility". The main IRAF distribution includes a good selection of programs for general image processing and graphics.
Other external or layered packages are available for applications such as data acquisition or handling data from other observatories and wavelength regimes such as the Hubble Space Telescope (optical), EUVE (extreme ultra-violet), or ROSAT and AXAF (X-ray). These external packages are distributed separately from the main IRAF distribution but can be easily installed. The IRAF system also the programmable Command Language scripting facility.
Other Packages Related to iraf
rec:

iraf-noao

IRAF NOAO data reduction package

rec:

saods9

Image display tool for astronomy

or x11iraf

Package not available

rec:

xterm

X terminal emulator
Python interface for IRAF

or python-pyraf

Package not available
sug:

iraf-dev

Image Reduction and Analysis Facility (development files)
Download iraf
Download for all available architectures

| Architecture | Package Size | Installed Size | Files |
| --- | --- | --- | --- |
| amd64 | 7,021.3 kB | 32,497.0 kB | [list of files] |
| arm64 | 5,658.3 kB | 31,138.0 kB | [list of files] |
| armel | 5,462.5 kB | 31,201.0 kB | [list of files] |
| armhf | 4,918.6 kB | 23,806.0 kB | [list of files] |
| i386 | 6,788.8 kB | 35,904.0 kB | [list of files] |
| mips64el | 6,678.9 kB | 39,368.0 kB | [list of files] |
| mipsel | 6,847.5 kB | 37,804.0 kB | [list of files] |
| ppc64el | 6,288.2 kB | 40,098.0 kB | [list of files] |