Package: kontact (4:16.04.3-4~deb9u1)
Links for kontact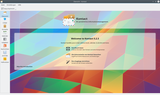 Debian Resources:
Download Source Package kdepim:
Maintainers:
External Resources:
Similar packages:
integrated application for personal information management
Kontact is the integrated solution to your personal information management needs. It combines applications like KMail, KOrganizer and KAddressBook into a single interface to provide easy access to mail, scheduling, address book and other PIM functionality.
This package is part of the KDE PIM module.
Other Packages Related to kontact
sug:

gnokii

Datasuite for mobile phone management (metapackage)