Pakket: spd (1.3.0-1)
Verwijzigingen voor spd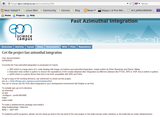 Debian bronnen:
Het bronpakket spd downloaden:
Beheerder:
Externe bronnen:
Vergelijkbare pakketten:
Synchrotron image corrections and azimuthal integration
SPD stands for SPatial Distortion. Written in C language, this command-line driven program deals with images coming from X-ray diffusion/diffraction experiments. It does subsequently:

 *intensity corrections (dark current, flat field correction, ...),
 *geometry corrections using spline files or a pair of distortion arrays,
 *azimuthal integration in 2D or 1D after maskin defective pixels.

SPD was originally written by Jorg Klora for ESRF and was re-written by Peter Boesecke. Maintenance and packaging of the program are provided by Rainer Wilcke and Jerome Kieffer from software group at ESRF.
Andere aan spd gerelateerde pakketten
spd downloaden
Pakket downloaden voor alle beschikbare platforms

| Platform | Pakketgrootte | Geïnstalleerde grootte | Bestanden |
| --- | --- | --- | --- |
| amd64 | 176,3 kB | 419,0 kB | [overzicht] |
| armel | 170,3 kB | 390,0 kB | [overzicht] |
| armhf | 146,4 kB | 282,0 kB | [overzicht] |
| i386 | 168,8 kB | 425,0 kB | [overzicht] |
| ia64 | 262,5 kB | 827,0 kB | [overzicht] |
| kfreebsd-amd64 | 176,2 kB | 385,0 kB | [overzicht] |
| kfreebsd-i386 | 168,7 kB | 394,0 kB | [overzicht] |
| mips | 161,2 kB | 414,0 kB | [overzicht] |
| mipsel | 162,5 kB | 414,0 kB | [overzicht] |
| powerpc | 164,6 kB | 390,0 kB | [overzicht] |
| s390 | 165,3 kB | 390,0 kB | [overzicht] |
| s390x | 175,1 kB | 431,0 kB | [overzicht] |
| sparc | 162,6 kB | 386,0 kB | [overzicht] |