Pakket: ffmpeg (6:0.8.17-2)
Verwijzigingen voor ffmpeg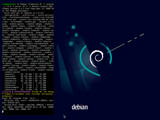 Debian bronnen:
Het bronpakket libav downloaden:
Beheerders:
Externe bronnen:
Vergelijkbare pakketten:
Multimedia player, server, encoder and transcoder (transitional package)
Libav is a complete, cross-platform solution to decode, encode, record, convert and stream audio and video.
This package contains the deprecated ffmpeg program. This package also serves as a transitional package to libav-tools. Users are advised to use avconv from the libav-tools package instead of ffmpeg.
Andere aan ffmpeg gerelateerde pakketten