[ wheezy ]
Pakket: centerim-utf8 (4.22.10-2)
Verwijzigingen voor centerim-utf8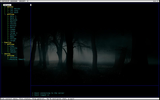 Debian bronnen:
Het bronpakket centerim downloaden:
Beheerders:
Externe bronnen:
Vergelijkbare pakketten:
A text-mode multi-protocol instant messenger client
Centerim is a fork of the centericq instant messaging client
Centerim is a text mode menu- and window-driven IM client program that supports the ICQ2000, Yahoo!, AIM, MSN, IRC and Jabber protocols.
This is a version of centerim linked with libncursesw5. It may be buggy.
Andere aan centerim-utf8 gerelateerde pakketten
rec:

firefox

Pakket niet beschikbaar

of www-browser

virtueel pakket geboden door chimera2, chromium, conkeror, dillo, elinks, elinks-lite, elvis, elvis-console, epiphany-browser, firefox-esr, iceweasel, konqueror, links, links2, lynx-cur, midori, netrik, netsurf, netsurf-fb, netsurf-gtk, rekonq, surf, uzbl, w3m

rec:

sox

Swiss army knife of sound processing