Pakket: links (2.7-1+deb7u1)
Verwijzigingen voor links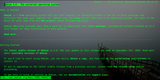 Debian bronnen:
Het bronpakket links2 downloaden:
Beheerder:
Externe bronnen:
Vergelijkbare pakketten:
Web browser running in text mode
Links is a text mode WWW browser, similar to Lynx. It displays tables, frames, downloads on background, uses HTTP/1.1 keepalive connections.
This version is compiled without graphics mode. See the package links2 for a version with graphics support compiled in.
Andere aan links gerelateerde pakketten