Pakket: alpine (2.02+dfsg-2)
Verwijzigingen voor alpine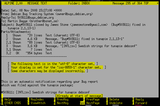 Debian bronnen:
Het bronpakket alpine downloaden:
Beheerders:
Externe bronnen:
Vergelijkbare pakketten:
Text-based email client, friendly for novices but powerful
Alpine is an upgrade of the well-known PINE email client. Its name derives from the use of the Apache License and its ties to PINE.
It features a full suite of support for mail protocols like IMAP and SMTP and security protocols like TLS. It uses curses for its interface.
Andere aan alpine gerelateerde pakketten
rec:

alpine-doc

Text-based email client's documentation
sug:

aspell

Aspell, spellingcontrole verspreid onder de GNU-licentie

sug:

mail-transport-agent

virtueel pakket geboden door citadel-mta, courier-mta, esmtp-run, exim4-daemon-heavy, exim4-daemon-light, lsb-invalid-mta, masqmail, msmtp-mta, nullmailer, postfix, qmail-run, sendmail-bin, ssmtp, xmail

of exim4

metapackage to ease Exim MTA (v4) installation