Pakket: kfilereplace (4:4.8.4-1)
Verwijzigingen voor kfilereplace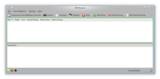 Debian bronnen:
Het bronpakket kdewebdev downloaden:
Beheerders:
Externe bronnen:
Vergelijkbare pakketten:
batch search-and-replace component
KFileReplace is an embedded component for KDE that acts as a batch search-and-replace tool. It allows you to replace one expression with another in many files at once.
This package is part of KDE web development module.
Andere aan kfilereplace gerelateerde pakketten