Pakket: pcsxr (1.9.92-4)
Verwijzigingen voor pcsxr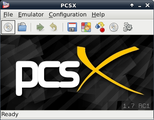 Debian bronnen:
Het bronpakket pcsxr downloaden:
Beheerders:
Externe bronnen:
Vergelijkbare pakketten:
Sony PlayStation emulator
PCSX is an advanced PlayStation (PSX) emulator, which uses a plugin architecture to provide full support for all components of the PSX. It has full emulation support for gamepads, videos, sound, memory cards, and other important PSX components, and is able to play many games without problems.
This package contains PCSX-Reloaded, which is based on PCSX-df 1.9 which is in turn based on the original PCSX.
Andere aan pcsxr gerelateerde pakketten
pcsxr downloaden
Pakket downloaden voor alle beschikbare platforms

| Platform | Pakketgrootte | Geïnstalleerde grootte | Bestanden |
| --- | --- | --- | --- |
| amd64 | 896,0 kB | 2.396,0 kB | [overzicht] |
| armel | 897,3 kB | 2.224,0 kB | [overzicht] |
| armhf | 849,1 kB | 1.900,0 kB | [overzicht] |
| i386 | 854,3 kB | 2.335,0 kB | [overzicht] |
| ia64 | 1.129,3 kB | 3.589,0 kB | [overzicht] |
| kfreebsd-amd64 | 880,2 kB | 2.225,0 kB | [overzicht] |
| kfreebsd-i386 | 829,1 kB | 2.185,0 kB | [overzicht] |
| mips | 850,6 kB | 2.260,0 kB | [overzicht] |
| mipsel | 845,4 kB | 2.252,0 kB | [overzicht] |
| powerpc | 852,6 kB | 2.189,0 kB | [overzicht] |
| s390 | 950,3 kB | 2.431,0 kB | [overzicht] |
| s390x | 973,0 kB | 2.611,0 kB | [overzicht] |
| sparc | 893,8 kB | 2.321,0 kB | [overzicht] |