Pakket: octave (3.6.2-5+deb7u1)
Verwijzigingen voor octave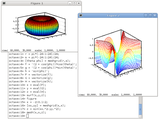 Debian bronnen:
Het bronpakket octave downloaden:
Beheerders:
Externe bronnen:
Vergelijkbare pakketten:
GNU Octave language for numerical computations
Octave is a (mostly Matlab (R) compatible) high-level language, primarily intended for numerical computations. It provides a convenient command-line interface for solving linear and nonlinear problems numerically.
Octave can be dynamically extended with user-supplied C++ files.
Andere aan octave gerelateerde pakketten
rec:

gnuplot-x11

Command-line driven interactive plotting program. X-package
Ook een virtueel pakket geboden door: gnuplot-qt

of gnuplot-qt

Command-line driven interactive plotting program. QT-package

rec:

libatlas3-base

Automatically Tuned Linear Algebra Software, generic shared
Optimized BLAS (linear algebra) library based on GotoBLAS2
sug:

octave-doc

PDF documentation on the GNU Octave language

sug:

octave-htmldoc

HTML documentation on the GNU Octave language

sug:

octave-info

GNU Info documentation on the GNU Octave language
octave downloaden
Pakket downloaden voor alle beschikbare platforms

| Platform | Pakketgrootte | Geïnstalleerde grootte | Bestanden |
| --- | --- | --- | --- |
| kfreebsd-amd64 | 1.827,5 kB | 5.042,0 kB | [overzicht] |