Pakket: gmfsk (0.6+0.7pre1-2.3)
Verwijzigingen voor gmfsk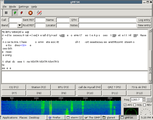 Debian bronnen:
Het bronpakket gmfsk downloaden:
Beheerder:
Vergelijkbare pakketten:
MFSK, RTTY and other digital mode terminal for HF/amateur radio
gmfsk is a terminal program for amateur radio digital communication modes for GNOME. It supports MFSK, RTTY, THROB, PSK31, MT63 and Hellschreiber modulations. It is used for keyboard-to-keyboard chatting and not reliable packet communication.
Andere aan gmfsk gerelateerde pakketten
gmfsk downloaden
Pakket downloaden voor alle beschikbare platforms

| Platform | Pakketgrootte | Geïnstalleerde grootte | Bestanden |
| --- | --- | --- | --- |
| amd64 | 347,3 kB | 825,0 kB | [overzicht] |
| armel | 342,1 kB | 771,0 kB | [overzicht] |
| armhf | 317,2 kB | 662,0 kB | [overzicht] |
| i386 | 341,7 kB | 823,0 kB | [overzicht] |
| ia64 | 440,2 kB | 1.249,0 kB | [overzicht] |
| kfreebsd-amd64 | 347,5 kB | 730,0 kB | [overzicht] |
| kfreebsd-i386 | 340,5 kB | 728,0 kB | [overzicht] |
| mips | 321,9 kB | 806,0 kB | [overzicht] |
| mipsel | 322,9 kB | 806,0 kB | [overzicht] |
| powerpc | 344,7 kB | 782,0 kB | [overzicht] |
| s390 | 339,0 kB | 790,0 kB | [overzicht] |
| s390x | 360,3 kB | 868,0 kB | [overzicht] |
| sparc | 336,7 kB | 769,0 kB | [overzicht] |