Pakket: gksu (2.0.2-6)
Verwijzigingen voor gksu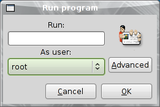 Debian bronnen:
Het bronpakket gksu downloaden:
Beheerders:
Externe bronnen:
Vergelijkbare pakketten:
graphical frontend to su
gksu is a Gtk+ frontend to /bin/su. It supports login shells and preserving environment when acting as a su frontend. It is useful to menu items or other graphical programs that need to ask a user's password to run another program as another user.
Andere aan gksu gerelateerde pakketten
gksu downloaden
Pakket downloaden voor alle beschikbare platforms

| Platform | Pakketgrootte | Geïnstalleerde grootte | Bestanden |
| --- | --- | --- | --- |
| amd64 | 82,4 kB | 207,0 kB | [overzicht] |
| armel | 82,5 kB | 536,0 kB | [overzicht] |
| armhf | 81,8 kB | 451,0 kB | [overzicht] |
| i386 | 80,9 kB | 453,0 kB | [overzicht] |
| ia64 | 85,3 kB | 220,0 kB | [overzicht] |
| kfreebsd-amd64 | 82,4 kB | 233,0 kB | [overzicht] |
| kfreebsd-i386 | 81,8 kB | 229,0 kB | [overzicht] |
| mips | 82,1 kB | 454,0 kB | [overzicht] |
| mipsel | 82,4 kB | 454,0 kB | [overzicht] |
| powerpc | 82,9 kB | 455,0 kB | [overzicht] |
| s390 | 82,7 kB | 456,0 kB | [overzicht] |
| s390x | 84,0 kB | 461,0 kB | [overzicht] |
| sparc | 80,7 kB | 452,0 kB | [overzicht] |