Pakket: gnuchess (6.0.2-1)
Verwijzigingen voor gnuchess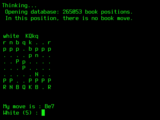 Debian bronnen:
Het bronpakket gnuchess downloaden:
Beheerders:
Externe bronnen:
Vergelijkbare pakketten:
Plays a game of chess, either against the user or against itself
Gnuchess is an updated version of the GNU chess playing program. It is now based on the fruit chess engine and uses the UCI chess engine protocol. It has a simple alpha-numeric board display, and is also compatible with frontends like xboard, scid and eboard.
Andere aan gnuchess gerelateerde pakketten
gnuchess downloaden
Pakket downloaden voor alle beschikbare platforms

| Platform | Pakketgrootte | Geïnstalleerde grootte | Bestanden |
| --- | --- | --- | --- |
| amd64 | 208,7 kB | 426,0 kB | [overzicht] |
| armel | 212,3 kB | 420,0 kB | [overzicht] |
| armhf | 202,4 kB | 360,0 kB | [overzicht] |
| i386 | 207,7 kB | 436,0 kB | [overzicht] |
| ia64 | 281,0 kB | 682,0 kB | [overzicht] |
| kfreebsd-amd64 | 208,7 kB | 384,0 kB | [overzicht] |
| kfreebsd-i386 | 208,1 kB | 394,0 kB | [overzicht] |
| mips | 227,2 kB | 477,0 kB | [overzicht] |
| mipsel | 226,7 kB | 477,0 kB | [overzicht] |
| powerpc | 231,5 kB | 460,0 kB | [overzicht] |
| s390 | 223,3 kB | 452,0 kB | [overzicht] |
| s390x | 223,8 kB | 473,0 kB | [overzicht] |
| sparc | 217,7 kB | 449,0 kB | [overzicht] |