Pakket: gnumeric (1.10.17-1.1)
Verwijzigingen voor gnumeric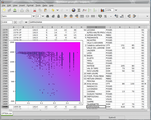 Debian bronnen:
Het bronpakket gnumeric downloaden:
Beheerder:
Externe bronnen:
Vergelijkbare pakketten:
Rekenbladtoepassing voor GNOME - hoofdprogramma
Gnumeric is een rekenbladtoepassing die goed samenwerkt met andere rekenbladtoepassingen. Het bevat plug-ins waardoor het in staat is om met de meest gangbare bestandsformaten om te gaan.
De volgende formaten kunnen worden geïmporteerd en geëxporteerd:

 - Microsoft Excel 97/2000/XP (.xls);
 - Microsoft Excel 95 (.xls);
 - OASIS XML, OpenOffice.org XML, StarOffice (.sxc);
 - Comma/Character Separated Values (.csv);
 - Data Interchange Format (.dif);
 - Applix versie 4 (.as).

Tevens kunnen deze formaten geopend worden:

 - GNU Oleo (.oleo);
 - Linear and integer program expression format (.mps);
 - Lotus 1-2-3 (.wks, .wk1);
 - MS MultiPlan SYLK (.sylk);
 - WordPerfect family "Plan Perfect" (.pln);
 - Quattro Pro (tm);
 - XSpread of SC;
 - XBase (.dbf).

Gnumeric kan ook bestanden opslaan als LaTeX 2e (.tex), TROFF (.me) en HTML.
Gnumeric is gemakkelijk in het gebruik, vooral voor gebruikers die bekend zijn met Excel.
Gnumeric is een GNOME-programma. GNOME (GNU Network Object Model Environment) bestaat uit gebruiksvriendelijke toepassingen en computerhulpmiddelen dat kan worden gebruikt als vensterbeheerder voor het X Window System.
Andere aan gnumeric gerelateerde pakketten
rec:

evince (>= 0.9.0)

weergeven van documenten (PostScript, PDF)

of evince-gtk (>= 0.9.0)

weergeven van documenten (PostScript, PDF) - GTK+ versie

rec:

lp-solve

Solve (mixed integer) linear programming problems