Pakket: stun (0.96.dfsg-6)
Verwijzigingen voor stun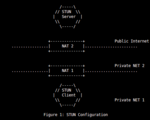 Debian bronnen:
Het bronpakket stun downloaden:
Beheerders:
Externe bronnen:
Vergelijkbare pakketten:
Server daemon and test client for STUN
The STUN protocol (Simple Traversal of UDP through NATs) is described in the IETF RFC 3489, available at http://www.ietf.org/rfc/rfc3489.txt. It's used to help clients behind NAT to tunnel incoming calls through. This server is the counterpart to help the client identify the NAT and have it open the proper ports for it.
Andere aan stun gerelateerde pakketten
dep:

libc6 (>= 2.2.5)

Embedded GNU C Library: Shared libraries
Ook een virtueel pakket geboden door: libc6-udeb

dep:

libgcc1 (>= 1:4.1.1)

GCC support bibliotheek

dep:

libstdc++6 (>= 4.4.0)

GNU Standard C++ Library v3