Pakket: rxvt-unicode-256color (9.22-1 en anderen)
Verwijzigingen voor rxvt-unicode-256color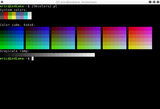 Debian bronnen:
Het bronpakket rxvt-unicode downloaden:
Beheerders:
Externe bronnen:
Vergelijkbare pakketten:
multi-lingual terminal emulator with Unicode support for X11
rxvt-unicode is a modern, Unicode-aware color xterm replacement that uses significantly less memory than a conventional xterm and many other Unicode supporting terminal emulators.
It supports using multiple fonts at the same time, including Xft fonts, and client-server technology to reduce memory consumption when using multiple windows.
This package is configured with 256-color support, and TERM set to "rxvt-unicode-256color". Any other systems you log into must have this terminfo entry installed!
Andere aan rxvt-unicode-256color gerelateerde pakketten
rxvt-unicode-256color downloaden
Pakket downloaden voor alle beschikbare platforms

| Platform | Versie | Pakketgrootte | Geïnstalleerde grootte | Bestanden |
| --- | --- | --- | --- | --- |
| amd64 | 9.22-1+b1 | 746,2 kB | 3.291,0 kB | [overzicht] |
| arm64 | 9.22-1+b1 | 708,6 kB | 3.275,0 kB | [overzicht] |
| armel | 9.22-1+b1 | 690,9 kB | 3.058,0 kB | [overzicht] |
| armhf | 9.22-1+b1 | 688,5 kB | 2.786,0 kB | [overzicht] |
| i386 | 9.22-1+b1 | 745,5 kB | 3.270,0 kB | [overzicht] |
| mips | 9.22-1+b1 | 710,1 kB | 3.399,0 kB | [overzicht] |
| mips64el | 9.22-1+b1 | 722,4 kB | 3.600,0 kB | [overzicht] |
| mipsel | 9.22-1+b1 | 718,4 kB | 3.399,0 kB | [overzicht] |
| ppc64el | 9.22-1+b1 | 726,1 kB | 3.627,0 kB | [overzicht] |
| s390x | 9.22-1+b1 | 726,9 kB | 3.507,0 kB | [overzicht] |