Pakket: netsurf-gtk (3.6-3.1)
Verwijzigingen voor netsurf-gtk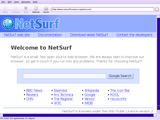 Debian bronnen:
Het bronpakket netsurf downloaden:
Beheerders:
Externe bronnen:
Vergelijkbare pakketten:
small web browser with CSS support for GTK
NetSurf is a multi-platform lightweight web browser. It aims to provide comprehensive rendering of HTML 5 with CSS 2 in a small resource footprint without compromising performance.
This version uses the GTK+ toolkit.
Andere aan netsurf-gtk gerelateerde pakketten
rec:

mime-support

MIME bestanden 'mime.types' & 'mailcap' en support programma's
netsurf-gtk downloaden
Pakket downloaden voor alle beschikbare platforms

| Platform | Pakketgrootte | Geïnstalleerde grootte | Bestanden |
| --- | --- | --- | --- |
| amd64 | 1.205,8 kB | 4.999,0 kB | [overzicht] |
| arm64 | 1.051,9 kB | 4.589,0 kB | [overzicht] |
| armel | 1.034,9 kB | 4.428,0 kB | [overzicht] |
| armhf | 1.041,7 kB | 3.816,0 kB | [overzicht] |
| i386 | 1.234,8 kB | 5.333,0 kB | [overzicht] |
| mips | 1.049,3 kB | 5.429,0 kB | [overzicht] |
| mips64el | 1.062,5 kB | 5.548,0 kB | [overzicht] |
| mipsel | 1.059,1 kB | 5.429,0 kB | [overzicht] |
| ppc64el | 1.090,1 kB | 5.373,0 kB | [overzicht] |
| s390x | 1.163,4 kB | 5.377,0 kB | [overzicht] |