Pakket: pasco (20040505-2)
Verwijzigingen voor pasco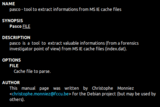 Debian bronnen:
Het bronpakket pasco downloaden:
Beheerders:
Externe bronnen:
Vergelijkbare pakketten:
Internet Explorer cache forensic analysis tool
Pasco is a forensic tool that examines the content of cache files (index.dat) produced by Microsoft Internet Explorer.
It parses the file and outputs a field separated that can be loaded in a spreadsheet.
This package is useful in forensics investigations.
Andere aan pasco gerelateerde pakketten
dep:

libc6 (>= 2.4)

GNU C Bibliotheek: Gedeelde bibliotheken
Ook een virtueel pakket geboden door: libc6-udeb