Pakket: input-pad (1.0.3-1 en anderen)
Verwijzigingen voor input-pad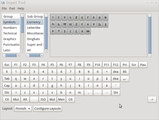 Debian bronnen:
Het bronpakket input-pad downloaden:
Beheerders:
Externe bronnen:
Vergelijkbare pakketten:
On-screen Input Pad to Send Characters with Mouse
The input pad is a tool to send a character to text applications when the corresponging button is pressed. It provides the GTK+ based GUI and can send characters when the GTK+ buttons are pressed.
This package contains a standalone application.
Andere aan input-pad gerelateerde pakketten
dep:

libc6 (>= 2.2.5)

GNU C Bibliotheek: Gedeelde bibliotheken
Ook een virtueel pakket geboden door: libc6-udeb

dep:

libinput-pad1 (= 1.0.3-1+b1)

On-screen Input Pad to Send Characters with Mouse - libs