Pakket: gnuminishogi (1.3.2-7)
Verwijzigingen voor gnuminishogi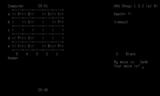 Debian bronnen:
Het bronpakket gnushogi downloaden:
Beheerder:
Externe bronnen:
Vergelijkbare pakketten:
A program to play minishogi, a shogi variant on a 5x5 board
Gnuminishogi is a computer player for the MiniShogi variant of shogi (Japanese chess).
Gnuminishogi is a modified version of the gnushogi program. It can be used through tagua, kaya, or other graphical frontends, but also has a simple alpha-numeric board display.
Andere aan gnuminishogi gerelateerde pakketten
dep:

libc6 (>= 2.4)

Embedded GNU C Library: Shared libraries
Ook een virtueel pakket geboden door: libc6-udeb

dep:

libncurses5 (>= 5.6+20071006-3)

shared libraries for terminal handling
sug:

tagua

Board-game frontend for playing chess variants and other games