Pakket: phalanx (22+d051004-10)
Verwijzigingen voor phalanx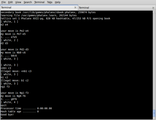 Debian bronnen:
Het bronpakket phalanx downloaden:
Beheerder:
Externe bronnen:
Vergelijkbare pakketten:
Chess playing program
Phalanx is a simple chess playing program of conventional design. It is xboard compatible. The main aim is to write a slow thinker with a lot of chess specific knowledge. Current version plays risky, active chess and shows quite good tactical performance.
Andere aan phalanx gerelateerde pakketten
sug:

xboard

An X Window System Chess Board
virtueel pakket geboden door aterm, aterm-ml, eterm, evilvte, gnome-terminal, guake, konsole, kterm, lxterminal, mlterm, mlterm-tiny, mrxvt, mrxvt-cjk, mrxvt-mini, pterm, roxterm, rxvt, rxvt-beta, rxvt-ml, rxvt-unicode, rxvt-unicode-lite, rxvt-unicode-ml, sakura, terminal.app, terminator, tilda, vala-terminal, wterm, wterm-ml, xfce4-terminal, xterm, xvt
enh:

eboard

GTK+ chessboard program

enh:

emacs-chess

a client and library for playing Chess from Emacs

enh:

gnome-chess

chess client for the GNOME desktop environment

enh:

knights

Pakket niet beschikbaar

enh:

xboard

An X Window System Chess Board
phalanx downloaden
Pakket downloaden voor alle beschikbare platforms

| Platform | Pakketgrootte | Geïnstalleerde grootte | Bestanden |
| --- | --- | --- | --- |
| amd64 | 316,4 kB | 564,0 kB | [overzicht] |
| armel | 319,5 kB | 560,0 kB | [overzicht] |
| i386 | 311,9 kB | 556,0 kB | [overzicht] |
| ia64 | 354,3 kB | 700,0 kB | [overzicht] |
| kfreebsd-amd64 | 316,1 kB | 514,0 kB | [overzicht] |
| kfreebsd-i386 | 311,6 kB | 506,0 kB | [overzicht] |
| mips | 325,0 kB | 592,0 kB | [overzicht] |
| mipsel | 324,8 kB | 592,0 kB | [overzicht] |
| powerpc | 321,9 kB | 572,0 kB | [overzicht] |
| s390 | 321,0 kB | 568,0 kB | [overzicht] |
| sparc | 320,5 kB | 568,0 kB | [overzicht] |