Pakket: xymon-client (4.3.0~beta2.dfsg-6+squeeze1)
Verwijzigingen voor xymon-client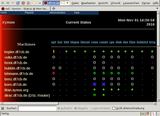 Debian bronnen:
Het bronpakket xymon downloaden:
Beheerder:
Externe bronnen:
Vergelijkbare pakketten:
client for the Xymon network monitor
Client data collection package for Xymon (previously known as Hobbit). This gathers statistics and data from a single system and reports it to the Xymon monitor. You should run this on all systems if you have a Xymon server installed.
Andere aan xymon-client gerelateerde pakketten
sug:

xymon-plugins

Pakket niet beschikbaar
plugins for the Xymon network monitor
xymon-client downloaden
Pakket downloaden voor alle beschikbare platforms

| Platform | Pakketgrootte | Geïnstalleerde grootte | Bestanden |
| --- | --- | --- | --- |
| amd64 | 412,0 kB | 1.084,0 kB | [overzicht] |
| armel | 375,4 kB | 960,0 kB | [overzicht] |
| i386 | 367,5 kB | 968,0 kB | [overzicht] |
| ia64 | 574,6 kB | 1.732,0 kB | [overzicht] |
| kfreebsd-amd64 | 408,8 kB | 908,0 kB | [overzicht] |
| kfreebsd-i386 | 365,0 kB | 792,0 kB | [overzicht] |
| mips | 423,6 kB | 1.204,0 kB | [overzicht] |
| mipsel | 417,6 kB | 1.208,0 kB | [overzicht] |
| powerpc | 413,8 kB | 1.084,0 kB | [overzicht] |
| s390 | 415,6 kB | 1.076,0 kB | [overzicht] |
| sparc | 401,0 kB | 1.028,0 kB | [overzicht] |