Pakket: lxterminal (0.1.8-2)
Verwijzigingen voor lxterminal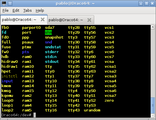 Debian bronnen:
Het bronpakket lxterminal downloaden:
Beheerders:
Externe bronnen:
Vergelijkbare pakketten:
desktop independent vte-based terminal emulator
LXterminal is a VTE-based terminal emulator from LXDE project which supports multiple tabs. It is completely desktop-independent and does not have any unnecessary dependencies.
In order to reduce memory usage and increase the performance, all instances of the terminal are sharing a single process.
Andere aan lxterminal gerelateerde pakketten
lxterminal downloaden
Pakket downloaden voor alle beschikbare platforms

| Platform | Pakketgrootte | Geïnstalleerde grootte | Bestanden |
| --- | --- | --- | --- |
| amd64 | 90,8 kB | 852,0 kB | [overzicht] |
| armel | 91,4 kB | 844,0 kB | [overzicht] |
| i386 | 90,2 kB | 844,0 kB | [overzicht] |
| ia64 | 99,4 kB | 904,0 kB | [overzicht] |
| kfreebsd-amd64 | 89,6 kB | 560,0 kB | [overzicht] |
| kfreebsd-i386 | 87,8 kB | 552,0 kB | [overzicht] |
| mips | 91,2 kB | 860,0 kB | [overzicht] |
| mipsel | 90,8 kB | 860,0 kB | [overzicht] |
| powerpc | 91,7 kB | 852,0 kB | [overzicht] |
| s390 | 92,0 kB | 856,0 kB | [overzicht] |
| sparc | 90,8 kB | 844,0 kB | [overzicht] |