Pakket: latexila (0.2.0-2)
Verwijzigingen voor latexila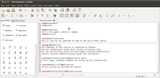 Debian bronnen:
Het bronpakket latexila downloaden:
Beheerder:
Externe bronnen:
Vergelijkbare pakketten:
LaTeX editor designed for the GNOME desktop
LaTeXila is a LaTeX editor for GNOME. It integrates the various tools required for processing LaTeX documents. It provides menus, buttons and templates to assist with the edition and the compilation of documents.
Andere aan latexila gerelateerde pakketten
rec:

texlive

TeX Live: A decent selection of the TeX Live packages
latexila downloaden
Pakket downloaden voor alle beschikbare platforms

| Platform | Pakketgrootte | Geïnstalleerde grootte | Bestanden |
| --- | --- | --- | --- |
| amd64 | 79,9 kB | 392,0 kB | [overzicht] |
| armel | 77,2 kB | 368,0 kB | [overzicht] |
| i386 | 70,6 kB | 348,0 kB | [overzicht] |
| ia64 | 95,2 kB | 576,0 kB | [overzicht] |
| kfreebsd-amd64 | 74,1 kB | 330,0 kB | [overzicht] |
| kfreebsd-i386 | 65,8 kB | 266,0 kB | [overzicht] |
| mips | 68,8 kB | 444,0 kB | [overzicht] |
| mipsel | 66,9 kB | 444,0 kB | [overzicht] |
| powerpc | 74,1 kB | 384,0 kB | [overzicht] |
| s390 | 82,6 kB | 392,0 kB | [overzicht] |
| sparc | 76,0 kB | 388,0 kB | [overzicht] |