Pakket: freewheeling (0.6-1 en anderen)
Verwijzigingen voor freewheeling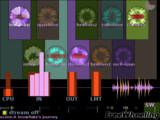 Debian bronnen:
Het bronpakket freewheeling downloaden:
Beheerder:
Externe bronnen:
Vergelijkbare pakketten:
live looping musical instrument
FreeWheeling is a live looping instrument built for improvisation. Using a keyboard or a MIDI controller, it allows to build and control repetitive patterns from a live audio stream.
FreeWheeling uses the Jack Audio Connection Kit, Fluidsynth, and SDL.
Andere aan freewheeling gerelateerde pakketten
freewheeling downloaden
Pakket downloaden voor alle beschikbare platforms

| Platform | Versie | Pakketgrootte | Geïnstalleerde grootte | Bestanden |
| --- | --- | --- | --- | --- |
| kfreebsd-i386 | 0.6-1+b2 | 290,9 kB | 1.002,0 kB | [overzicht] |