Pakket: deluged (1.2.3+git20110209.8c36830-0squeeze1)
Verwijzigingen voor deluged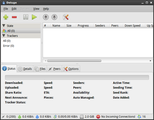 Debian bronnen:
Het bronpakket deluge downloaden:
Beheerder:
Externe bronnen:
Vergelijkbare pakketten:
bittorrent client written in Python/PyGTK (daemon)
Deluge is a full-featured, multi-platform, multi-interface BitTorrent client.
It uses libtorrent-rasterbar in it's backend and features multiple user-interfaces including: GTK+, web and console.
This package contains the daemon application (deluged) which is able to accept local or remote connections from any user-interface.
Andere aan deluged gerelateerde pakketten
dep:

deluge-common (= 1.2.3+git20110209.8c36830-0squeeze1)

bittorrent client written in Python/PyGTK (common files)

dep:

python (>= 2.5)

interactive high-level object-oriented language (default version)