Pakket: ddir (2010.0321+git1685e72-1)
Verwijzigingen voor ddir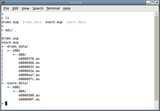 Debian bronnen:
Het bronpakket ddir downloaden:
Beheerder:
Externe bronnen:
Vergelijkbare pakketten:
display DOS style hierarchical directory tree
Display an indented directory tree using ASCII graphical character to represent hierarchical sturucture. The directories to include or exlude can be specified with command line options. A Perl implementation of the tree(1) program.
Andere aan ddir gerelateerde pakketten
dep:

perl

Larry Wall's Practische Extractie en Reportage Taal