[ squeeze ]
Pakket: mybashburn (1.0.2-1)
Verwijzigingen voor mybashburn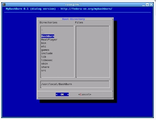 Debian bronnen:
Het bronpakket mybashburn downloaden:
Beheerder:
Vergelijkbare pakketten:
Burn data and create songs with interactive dialog box
This application can burn data cds, music cds, multisession cds. It can burn and create ISO files. It can burn bin/cue files, create oggs and flac files. Supports burning DVD-images and data DVDs, and others funny options. MyBashBurn depends on cdrecord and others backend applications, so basically if your writing device works with it, MyBashBurn will work flawlessly.
MyBashBurn is the version/fork owned for the cd burning shell script called BashBurn for Linux, this originally not have the best eye-candy CD-burning, nevertheless, MyBashBurn use dialog box function which draws (using ncurses) windows onto the screen. MyBashBurn dialog box offer best functionability, has very good capabilities of automatically finding dependencies and autodetect devices CD/DVD RW. In short, don't reinvent the wheel, but just let MyBashBurn does what you want it to do.
This package provides mybashburn and symlink from bashburn to mybashburn.

 Homepage: http://sourceforge.net/projects/mybashburn/

Andere aan mybashburn gerelateerde pakketten