Pakket: collatinus (9.3-4)
Verwijzigingen voor collatinus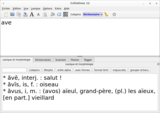 Debian bronnen:
Het bronpakket collatinus downloaden:
Beheerder:
Vergelijkbare pakketten:
virtual package to upgrade to Collatinus 9.3
Collatinus can be used to lemmatise latin texts, i.e. extract words and make a lexicon which indicates for each word its canonic form, and how the form actually found in the text was derived from it, for instance by declining it.
If you want to keep versions 7 and 8 of collatinus together with the new version, do not install this virtual package. Rather install directly the package collatinus9. The command "collatinus" will call collatinus8 by the alternatives, and the older versions will still be reachable as collatinus7 or collatinus8.
Pakketten die collatinus bieden:
lemmatisation of latin text
Andere aan collatinus gerelateerde pakketten