Pakket: wmii (3.10~20120413+hg2813-11 en anderen) [debports]
Verwijzigingen voor wmii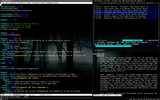 Debian bronnen:
Het bronpakket downloaden:
Niet gevonden
Beheerders:
Externe bronnen:
Vergelijkbare pakketten:
lightweight tabbed and tiled X11 window manager, version 3
wmii is a dynamic window manager for X11, which is highly customizable and usable with keyboard and mouse. It supports conventional, tabbed and tiled window management with low memory usage. It is highly modularized and uses an inter-process communication interface which is oriented on the 9p protocol of plan9.
This package contains version 3 of the window manager, wmii2 contains version 2.
Andere aan wmii gerelateerde pakketten
rec:

wmii-doc

Pakket niet beschikbaar
wmii downloaden
Pakket downloaden voor alle beschikbare platforms

| Platform | Versie | Pakketgrootte | Geïnstalleerde grootte | Bestanden |
| --- | --- | --- | --- | --- |
| arm64 (unofficial port) | 3.10~20120413+hg2813-7 | 317,0 kB | 1.022,0 kB | [overzicht] |
| powerpcspe (unofficial port) | 3.10~20120413+hg2813-11 | 333,7 kB | 1.373,0 kB | [overzicht] |