Pakket: monav-preprocessor (0.3-8) [debports]
Verwijzigingen voor monav-preprocessor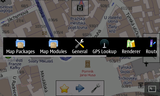 Debian bronnen:
Het bronpakket downloaden:
Niet gevonden
Beheerders:
Externe bronnen:
Vergelijkbare pakketten:
fast navigation system featuring exact routing - preprocessor
MoNav is a Desktop / Mobile application that offers state-of-the-art fast and exact routing with OpenStreetMap Data.
In contrast to most commercial and open-source routing applications, MoNav offers exact routing without heuristic assumptions and with very little computational work. Its routing core is based on Contraction Hierarchies.
The application is divided into two parts: The MoNav Preprocessor transforms the raw OpenStreetMap data into file formats usable by the MoNav Client application. The preprocessing is often time consuming and requires larger amounts of memory. The client application on the other hand has very few requirements and can even run on mobile devices.
Additionally a routing daemon is available to act as a background route server for other applications.
This package provides the preprocessing application.
Andere aan monav-preprocessor gerelateerde pakketten
dep:

libbz2-1.0

high-quality block-sorting file compressor library - runtime

dep:

libc6 (>= 2.17)

GNU C Bibliotheek: Gedeelde bibliotheken
Ook een virtueel pakket geboden door: libc6-udeb

dep:

libgcc1 (>= 1:4.7)

GCC support bibliotheek

dep:

libgomp1 (>= 4.9)

GCC OpenMP (GOMP) support library

dep:

libmapnik2.2

C++/Python toolkit for developing GIS applications (libraries)

dep:

libprotobuf9

protocol buffers C++ library

dep:

libqtcore4 (>= 4:4.8.0)

Qt 4 core module

dep:

libqtgui4 (>= 4:4.7)

Qt 4 GUI module

dep:

libstdc++6 (>= 4.9)

GNU Standard C++ Library v3

dep:

libxml2 (>= 2.7.4)

GNOME XML library

dep:

monav-data (= 0.3-8)

Pakket niet beschikbaar

dep:

zlib1g (>= 1:1.1.4)

compressiebibliotheek - programma's