Pakket: loook (0.8.6-1)
Verwijzigingen voor loook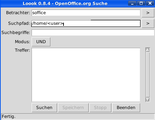 Debian bronnen:
Het bronpakket loook downloaden:
Beheerder:
Externe bronnen:
Vergelijkbare pakketten:
Search strings in ODF and OOXML documents
You can look for strings in ODF text documents, spreadsheets, presentations, drawings and formsm made by OpenOffice.org, Libreoffice, Apache OpenOffice or other programs, creating ODF files. You can look for strings in OOXML documents, too.
Loook has a convenient graphical user interface.
Andere aan loook gerelateerde pakketten
dep:

python3

interactive high-level object-oriented language (default python3 version)

dep:

python3-tk

Tkinter - Writing Tk applications with Python 3.x
rec:

libreoffice

office productivity suite (metapackage)

of calligra

extensive productivity and creative suite