Pakket: zynaddsubfx (3.0.3-1 en anderen)
Verwijzigingen voor zynaddsubfx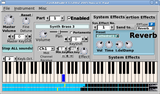 Debian bronnen:
Het bronpakket zynaddsubfx downloaden:
Beheerders:
Externe bronnen:
Vergelijkbare pakketten:
Realtime software synthesizer for Linux
A real-time software synthesizer for Linux and Windows with many features, including polyphony, multi-timbral and microtonal capabilities. It includes randomness of some parameters, which makes warm sounds, like analogue synthesizers. It has system/insertion effects too, and much more.
Andere aan zynaddsubfx gerelateerde pakketten
zynaddsubfx downloaden
Pakket downloaden voor alle beschikbare platforms

| Platform | Versie | Pakketgrootte | Geïnstalleerde grootte | Bestanden |
| --- | --- | --- | --- | --- |
| alpha (unofficial port) | 3.0.3-1 | 942,5 kB | 4.925,0 kB | [overzicht] |
| amd64 | 3.0.3-1 | 874,8 kB | 3.721,0 kB | [overzicht] |
| arm64 | 3.0.3-1 | 829,2 kB | 3.564,0 kB | [overzicht] |
| armel | 3.0.3-1 | 744,4 kB | 3.110,0 kB | [overzicht] |
| armhf | 3.0.3-1 | 768,2 kB | 2.394,0 kB | [overzicht] |
| hppa (unofficial port) | 3.0.3-1 | 856,1 kB | 4.031,0 kB | [overzicht] |
| hurd-i386 | 2.5.2-2 | 660,5 kB | 2.776,0 kB | [overzicht] |
| i386 | 3.0.3-1 | 927,5 kB | 3.835,0 kB | [overzicht] |
| kfreebsd-amd64 | 2.5.2-2 | 642,0 kB | 2.728,0 kB | [overzicht] |
| kfreebsd-i386 | 2.5.2-2 | 655,9 kB | 2.768,0 kB | [overzicht] |
| m68k (unofficial port) | 3.0.3-1 | 815,2 kB | 3.655,0 kB | [overzicht] |
| mips | 3.0.3-1 | 735,7 kB | 4.093,0 kB | [overzicht] |
| mips64el | 3.0.3-1 | 747,2 kB | 4.355,0 kB | [overzicht] |
| mipsel | 3.0.3-1 | 753,4 kB | 4.097,0 kB | [overzicht] |
| powerpcspe (unofficial port) | 3.0.3-1 | 812,8 kB | 4.066,0 kB | [overzicht] |
| ppc64 (unofficial port) | 3.0.3-1 | 864,2 kB | 4.732,0 kB | [overzicht] |
| ppc64el | 3.0.3-1 | 909,0 kB | 4.476,0 kB | [overzicht] |
| riscv64 (unofficial port) | 3.0.3-1 | 858,6 kB | 3.122,0 kB | [overzicht] |
| s390x | 3.0.3-1 | 786,8 kB | 3.944,0 kB | [overzicht] |
| sh4 (unofficial port) | 3.0.3-1 | 979,7 kB | 3.518,0 kB | [overzicht] |
| sparc64 (unofficial port) | 3.0.3-1 | 703,5 kB | 3.673,0 kB | [overzicht] |
| x32 (unofficial port) | 2.5.2-2 | 732,9 kB | 2.959,0 kB | [overzicht] |