Pakket: terminatorx (4.0.1-2)
Verwijzigingen voor terminatorx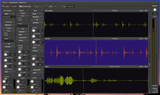 Debian bronnen:
Het bronpakket terminatorx downloaden:
Beheerders:
Externe bronnen:
Vergelijkbare pakketten:
realtime audio synthesizer
terminatorX is a realtime audio synthesizer that allows you to "scratch" on digitally sampled audio data (*.wav, *.au, *.mp3, etc.) the way hiphop-DJs scratch on vinyl records. It features multiple turntables, realtime effects (built-in as well as LADSPA plugin effects), a sequencer and an easy-to-use GTK+ GUI.
Andere aan terminatorx gerelateerde pakketten
sug:

ladspa-plugin

virtueel pakket geboden door amb-plugins, ambdec, autotalent, blepvco, blop, bs2b-ladspa, calf-ladspa, caps, cmt, csladspa, fil-plugins, guitarix-ladspa, invada-studio-plugins-ladspa, ladspa-sdk, mcp-plugins, omins, rev-plugins, ste-plugins, swh-plugins, tap-plugins, vco-plugins, wah-plugins

sug:

yelp

Documentatiebrowser voor GNOME
terminatorx downloaden
Pakket downloaden voor alle beschikbare platforms

| Platform | Pakketgrootte | Geïnstalleerde grootte | Bestanden |
| --- | --- | --- | --- |
| alpha (unofficial port) | 1.646,2 kB | 2.675,0 kB | [overzicht] |
| amd64 | 1.643,2 kB | 2.618,0 kB | [overzicht] |
| arm64 | 1.630,7 kB | 2.614,0 kB | [overzicht] |
| armel | 1.621,7 kB | 2.538,0 kB | [overzicht] |
| armhf | 1.624,1 kB | 2.474,0 kB | [overzicht] |
| hppa (unofficial port) | 1.636,8 kB | 2.579,0 kB | [overzicht] |
| i386 | 1.652,5 kB | 2.641,0 kB | [overzicht] |
| kfreebsd-amd64 | 1.635,8 kB | 2.594,0 kB | [overzicht] |
| kfreebsd-i386 | 1.644,8 kB | 2.613,0 kB | [overzicht] |
| m68k (unofficial port) | 1.624,6 kB | 2.577,0 kB | [overzicht] |
| mips | 1.640,4 kB | 2.697,0 kB | [overzicht] |
| mips64el | 1.640,7 kB | 2.749,0 kB | [overzicht] |
| mipsel | 1.642,3 kB | 2.697,0 kB | [overzicht] |
| powerpcspe (unofficial port) | 1.631,5 kB | 2.610,0 kB | [overzicht] |
| ppc64 (unofficial port) | 1.647,9 kB | 2.819,0 kB | [overzicht] |
| ppc64el | 1.645,4 kB | 2.746,0 kB | [overzicht] |
| riscv64 (unofficial port) | 1.637,3 kB | 2.575,0 kB | [overzicht] |
| s390x | 1.632,7 kB | 2.639,0 kB | [overzicht] |
| sh4 (unofficial port) | 1.641,3 kB | 2.533,0 kB | [overzicht] |
| sparc64 (unofficial port) | 1.625,2 kB | 2.650,0 kB | [overzicht] |
| x32 (unofficial port) | 1.636,5 kB | 2.540,0 kB | [overzicht] |