Pakket: songwrite (0.14-11 en anderen)
Verwijzigingen voor songwrite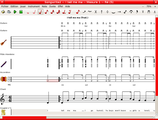 Debian bronnen:
Het bronpakket songwrite downloaden:
Beheerders:
Externe bronnen:
Vergelijkbare pakketten:
guitar tablature editor and player
Songwrite is a guitar tablature (fingering notation) editor and player, quite similar to TablEdit. In addition to tablatures, it also supports staff, lyrics and drums.
Printing support and playback are available through external programs.
Songwrite was formerly know as GTablature.
Andere aan songwrite gerelateerde pakketten
dep:

evince

weergeven van documenten (PostScript, PDF)
virtueel pakket geboden door atril, evince, evince-gtk, ghostscript, gv, okular, zathura-ps

dep:

lilypond (>= 2.4) [niet all]

program for typesetting sheet music

dep:

python [all]

interactive high-level object-oriented language (Python2 version)

dep:

python (<< 2.6) [niet all]

dep:

python-editobj (>= 0.5.6-1)

Python object editor

dep:

python-support (>= 0.90.0) [niet all]

Pakket niet beschikbaar

dep:

python-tk (>= 2.3)

Tkinter - Writing Tk applications with Python2

dep:

python2.5 [niet all]

Pakket niet beschikbaar
rec:

lilypond (>= 2.4)

program for typesetting sheet music