[ sid ]
Pakket: klystrack (0.20171212-4)
Verwijzigingen voor klystrack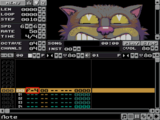 Debian bronnen:
Het bronpakket klystrack downloaden:
Beheerders:
Externe bronnen:
Vergelijkbare pakketten:
Chiptune tracker
This is an application for creating music reminiscent of the style of music from 8-bit computers or, chiptunes. It features a "tracker" style sequencer, and a built-in synthesizer capable of a wide range sounds - including but not limited to basic subtractive synthesis, frequency modulation and sample playback. Sounds can be easily beefed up by using the effect chain. It is possbile to import a handful of file formats, including Protracker .MOD, Fasttracker 2 .XM, the Cave Story music format (.ORG) and Rob Hubbard Commodore 64 SID files. Tunes can be easily exported as a single mixdown .WAV or separate tracks or you can simply use the playback library to use the klystrack files in your own games and other software.
Andere aan klystrack gerelateerde pakketten
klystrack downloaden
Pakket downloaden voor alle beschikbare platforms

| Platform | Pakketgrootte | Geïnstalleerde grootte | Bestanden |
| --- | --- | --- | --- |
| alpha (unofficial port) | 248,8 kB | 728,0 kB | [overzicht] |
| amd64 | 235,1 kB | 667,0 kB | [overzicht] |
| arm64 | 225,9 kB | 667,0 kB | [overzicht] |
| armel | 210,2 kB | 602,0 kB | [overzicht] |
| armhf | 211,5 kB | 526,0 kB | [overzicht] |
| hppa (unofficial port) | 228,1 kB | 644,0 kB | [overzicht] |
| hurd-i386 | 237,7 kB | 679,0 kB | [overzicht] |
| i386 | 237,8 kB | 685,0 kB | [overzicht] |
| kfreebsd-amd64 | 232,0 kB | 666,0 kB | [overzicht] |
| kfreebsd-i386 | 237,9 kB | 681,0 kB | [overzicht] |
| m68k (unofficial port) | 193,3 kB | 581,0 kB | [overzicht] |
| mips | 226,6 kB | 686,0 kB | [overzicht] |
| mips64el | 228,1 kB | 723,0 kB | [overzicht] |
| mipsel | 226,4 kB | 685,0 kB | [overzicht] |
| powerpcspe (unofficial port) | 221,1 kB | 629,0 kB | [overzicht] |
| ppc64 (unofficial port) | 240,4 kB | 825,0 kB | [overzicht] |
| ppc64el | 243,1 kB | 759,0 kB | [overzicht] |
| riscv64 (unofficial port) | 222,2 kB | 584,0 kB | [overzicht] |
| s390x | 226,3 kB | 712,0 kB | [overzicht] |
| sh4 (unofficial port) | 227,5 kB | 549,0 kB | [overzicht] |
| sparc64 (unofficial port) | 213,5 kB | 667,0 kB | [overzicht] |
| x32 (unofficial port) | 228,9 kB | 618,0 kB | [overzicht] |