Pakket: gbsplay (0.0.93-3)
Verwijzigingen voor gbsplay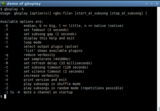 Debian bronnen:
Het bronpakket gbsplay downloaden:
Beheerders:
Externe bronnen:
Vergelijkbare pakketten:
Gameboy sound player
This program emulates the sound hardware of the Nintendo Gameboy. It is able to play the sounds from a Gameboy module dump (.GBS format). Also included is the gbsinfo tool which displays information about a .GBS file.
Andere aan gbsplay gerelateerde pakketten
gbsplay downloaden
Pakket downloaden voor alle beschikbare platforms

| Platform | Pakketgrootte | Geïnstalleerde grootte | Bestanden |
| --- | --- | --- | --- |
| alpha (unofficial port) | 49,8 kB | 186,0 kB | [overzicht] |
| amd64 | 47,4 kB | 198,0 kB | [overzicht] |
| arm64 | 45,4 kB | 198,0 kB | [overzicht] |
| armel | 43,7 kB | 160,0 kB | [overzicht] |
| armhf | 42,1 kB | 140,0 kB | [overzicht] |
| hppa (unofficial port) | 45,9 kB | 161,0 kB | [overzicht] |
| hurd-i386 | 47,9 kB | 163,0 kB | [overzicht] |
| i386 | 47,6 kB | 171,0 kB | [overzicht] |
| kfreebsd-amd64 | 46,7 kB | 194,0 kB | [overzicht] |
| kfreebsd-i386 | 48,0 kB | 163,0 kB | [overzicht] |
| m68k (unofficial port) | 40,2 kB | 131,0 kB | [overzicht] |
| mips | 47,1 kB | 182,0 kB | [overzicht] |
| mips64el | 47,1 kB | 204,0 kB | [overzicht] |
| mipsel | 47,3 kB | 182,0 kB | [overzicht] |
| powerpcspe (unofficial port) | 41,7 kB | 196,0 kB | [overzicht] |
| ppc64 (unofficial port) | 47,9 kB | 268,0 kB | [overzicht] |
| ppc64el | 47,5 kB | 266,0 kB | [overzicht] |
| riscv64 (unofficial port) | 43,5 kB | 182,0 kB | [overzicht] |
| s390x | 46,5 kB | 206,0 kB | [overzicht] |
| sh4 (unofficial port) | 43,9 kB | 135,0 kB | [overzicht] |
| sparc64 (unofficial port) | 43,0 kB | 197,0 kB | [overzicht] |
| x32 (unofficial port) | 44,3 kB | 148,0 kB | [overzicht] |