Pakket: gbemol (0.3.2-2 en anderen)
Verwijzigingen voor gbemol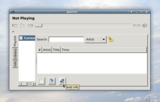 Debian bronnen:
Het bronpakket gbemol downloaden:
Beheerder:
Externe bronnen:
Vergelijkbare pakketten:
Graphical frontend for the Music Player Daemon (MPD)
gbemol allows you to use MPD with a userfriendly interface. Features include an easy-to-use, tag-oriented library browser, a two mode playlist, cover art support (APIC tag only, for now), system tray icon docking, song, album and artist information.
Music Player Daemon is a server that allows remote access for playing audio files, streams and managing playlists. The daemon is controlled through a client which need not run on the same computer mpd runs on.
Andere aan gbemol gerelateerde pakketten
sug:

mpd

Music Player Daemon
gbemol downloaden
Pakket downloaden voor alle beschikbare platforms

| Platform | Versie | Pakketgrootte | Geïnstalleerde grootte | Bestanden |
| --- | --- | --- | --- | --- |
| alpha (unofficial port) | 0.3.2-2 | 78,9 kB | 299,0 kB | [overzicht] |
| amd64 | 0.3.2-2+b1 | 57,3 kB | 214,0 kB | [overzicht] |
| arm64 | 0.3.2-2 | 46,7 kB | 193,0 kB | [overzicht] |
| armel | 0.3.2-2+b1 | 48,7 kB | 180,0 kB | [overzicht] |
| armhf | 0.3.2-2+b1 | 48,4 kB | 148,0 kB | [overzicht] |
| hppa (unofficial port) | 0.3.2-2 | 52,9 kB | 226,0 kB | [overzicht] |
| hurd-i386 | 0.3.2-2 | 66,8 kB | 236,0 kB | [overzicht] |
| i386 | 0.3.2-2+b1 | 64,3 kB | 240,0 kB | [overzicht] |
| kfreebsd-amd64 | 0.3.2-2+b1 | 57,1 kB | 214,0 kB | [overzicht] |
| kfreebsd-i386 | 0.3.2-2+b1 | 64,0 kB | 240,0 kB | [overzicht] |
| m68k (unofficial port) | 0.3.2-2 | 54,1 kB | 212,0 kB | [overzicht] |
| mips | 0.3.2-2+b1 | 53,7 kB | 245,0 kB | [overzicht] |
| mips64el | 0.3.2-2+b1 | 53,5 kB | 248,0 kB | [overzicht] |
| mipsel | 0.3.2-2+b1 | 54,9 kB | 245,0 kB | [overzicht] |
| powerpcspe (unofficial port) | 0.3.2-2 | 49,2 kB | 247,0 kB | [overzicht] |
| ppc64 (unofficial port) | 0.3.2-2+b1 | 50,8 kB | 256,0 kB | [overzicht] |
| ppc64el | 0.3.2-2+b1 | 51,3 kB | 250,0 kB | [overzicht] |
| riscv64 (unofficial port) | 0.3.2-2 | 48,1 kB | 169,0 kB | [overzicht] |
| s390x | 0.3.2-2+b1 | 53,2 kB | 234,0 kB | [overzicht] |
| sh4 (unofficial port) | 0.3.2-2 | 62,2 kB | 208,0 kB | [overzicht] |
| sparc64 (unofficial port) | 0.3.2-2 | 60,5 kB | 224,0 kB | [overzicht] |
| x32 (unofficial port) | 0.3.2-2 | 68,2 kB | 229,0 kB | [overzicht] |