Pakket: adlibtracker2 (2.4.24-1)
Verwijzigingen voor adlibtracker2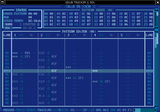 Debian bronnen:
Het bronpakket adlibtracker2 downloaden:
Beheerder:
Externe bronnen:
Vergelijkbare pakketten:
userfriendly tracker aimed for the OPL3 FM-chip
This is an 18-channel FM tracker for the OPL3-chip (or compatible) generally found on the older Soundblaster soundcards from Creative Labs. In other words - a tool for making music with FM-synthesis.
Supported song formats are A2M, A2P, A2T, AMD, CFF, DFM, FMK, HSC, MTK, RAD, S3M, SAT, SA2, XMS.
Andere aan adlibtracker2 gerelateerde pakketten
dep:

libc6 (>= 2.3.6-6~)

GNU C Bibliotheek: Gedeelde bibliotheken
Ook een virtueel pakket geboden door: libc6-udeb

dep:

libsdl1.2debian (>= 1.2.11)

Simple DirectMedia Layer